Watch an Overview Video for RPM.
See samples of the main screens in RPM.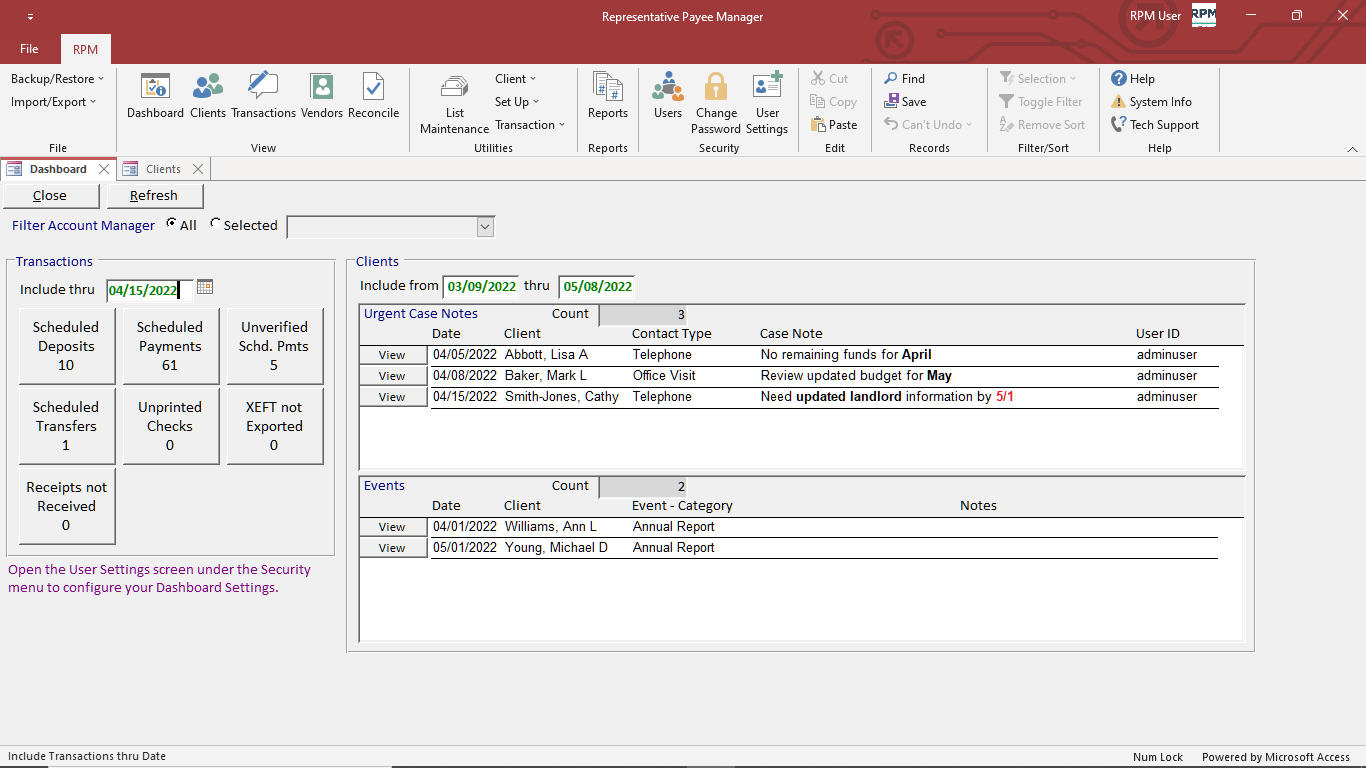 Dashboard
The Dashboard screen provides quick access to scheduled tasks in RPM. This includes outstanding transactions, urgent case notes and events not completed. Each user can customize settings for the Dashboard.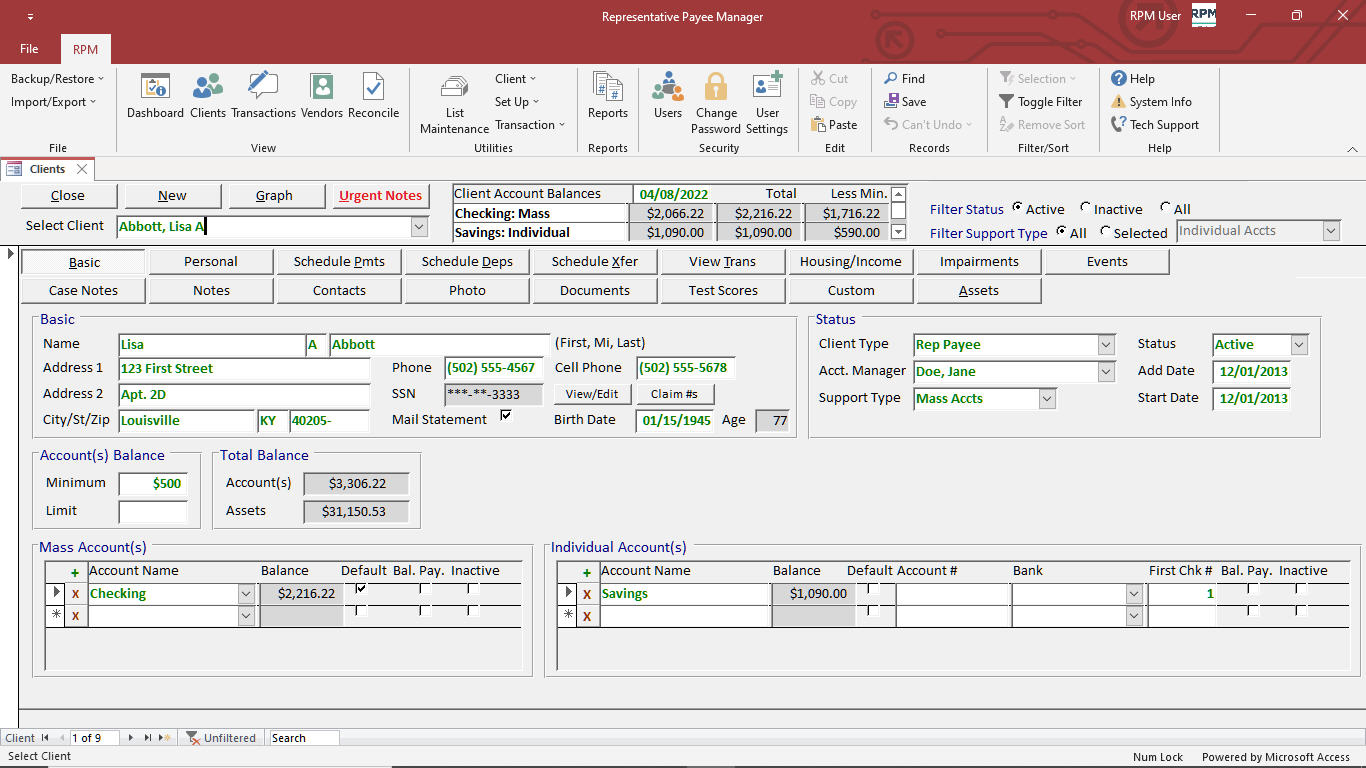 Clients
The Clients screen contains basic information about each client. The Basic tab allows you to enter the main client information including name and address as well as assign the client to mass and/or individual checking accounts. The remaining tabs are used for additional demographic, notes, contact and document information. From this screen, you can also enter scheduled payments, scheduled deposits, scheduled transfers and other assets for each client.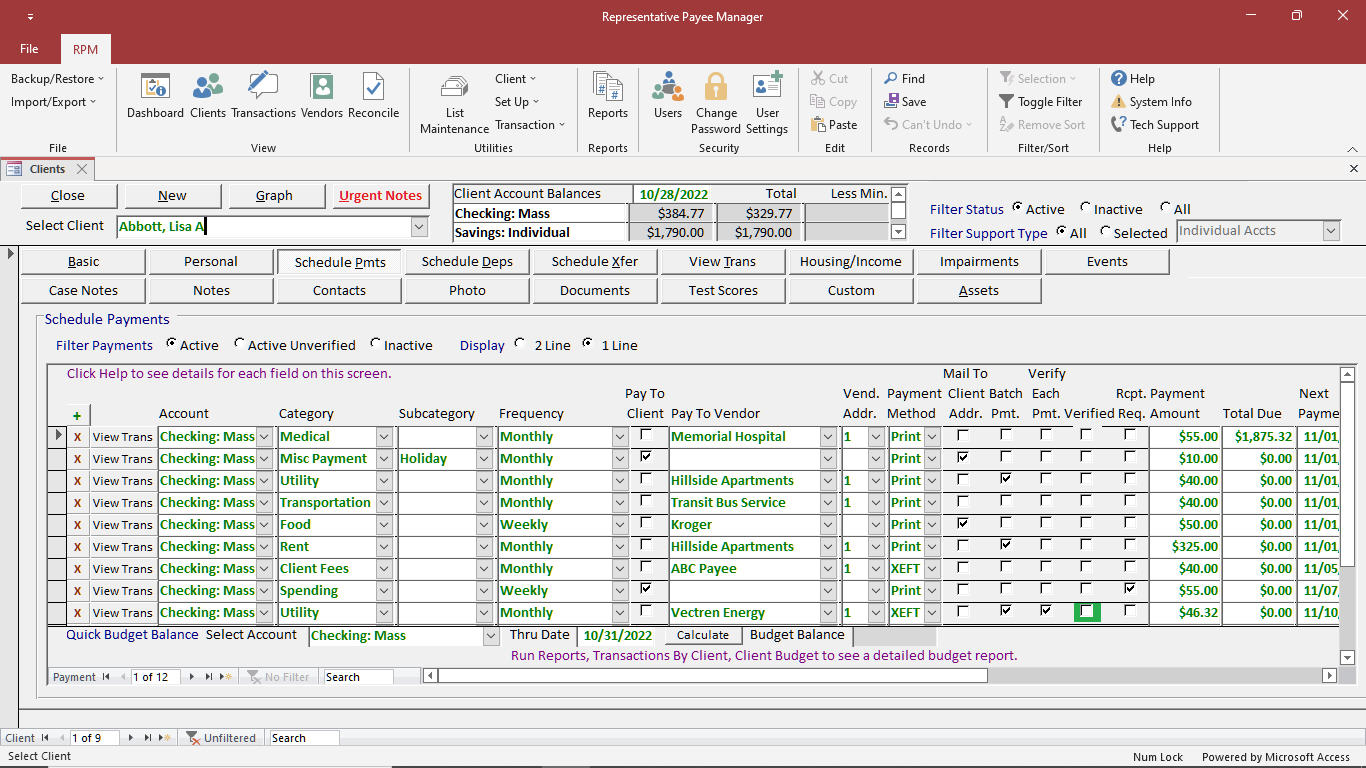 Scheduled Payments
The Scheduled Payments screen lets you schedule recurring payments for a client so that transactions can be automatically created using the Process Scheduled Payments screen. You can schedule payments paid to both the client or to a vendor with several frequency options. Similar screens are available for entering scheduled deposits and transfers.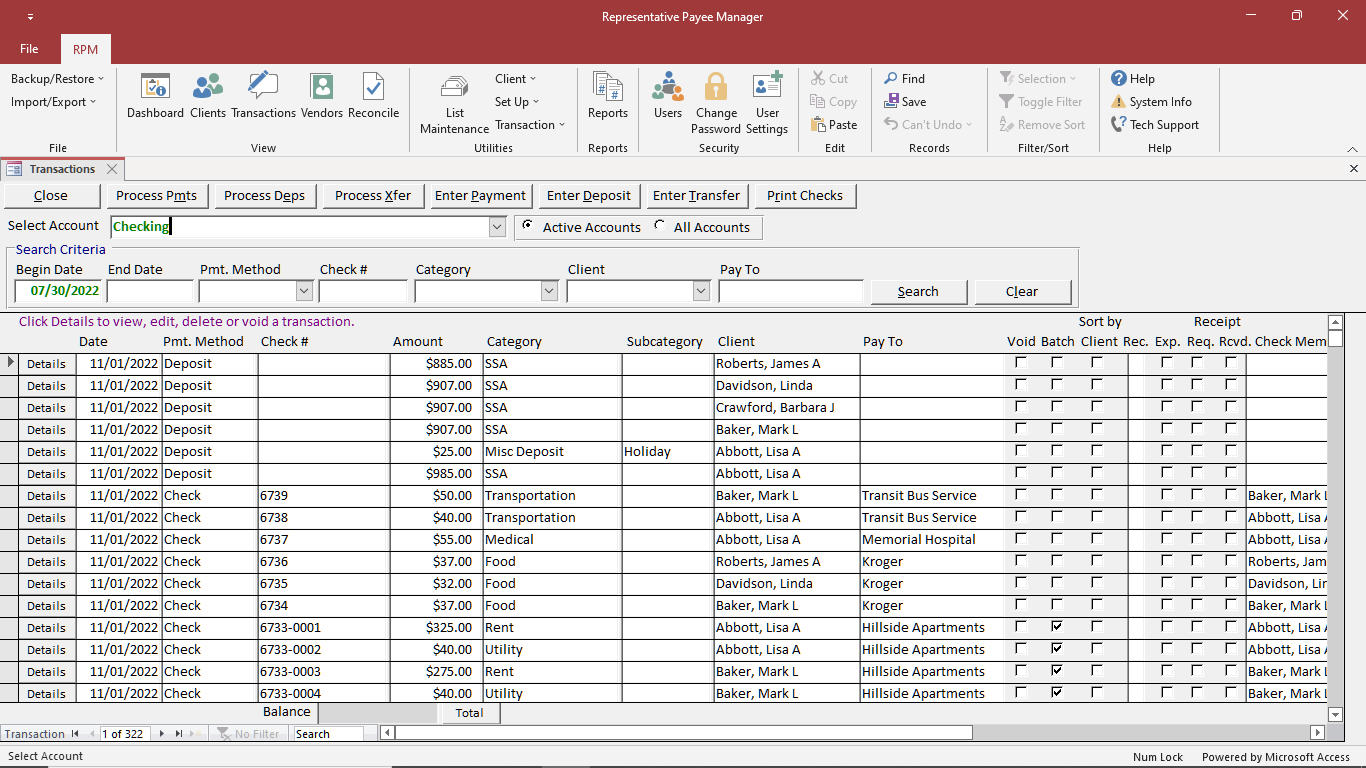 Transactions
The Transactions screen shows the transaction register for each bank account. Transactions are listed in date order with the most recent transactions at the top. From this screen you can also process scheduled payments, deposits and transfers, enter individual payments, deposits and transfers and print checks.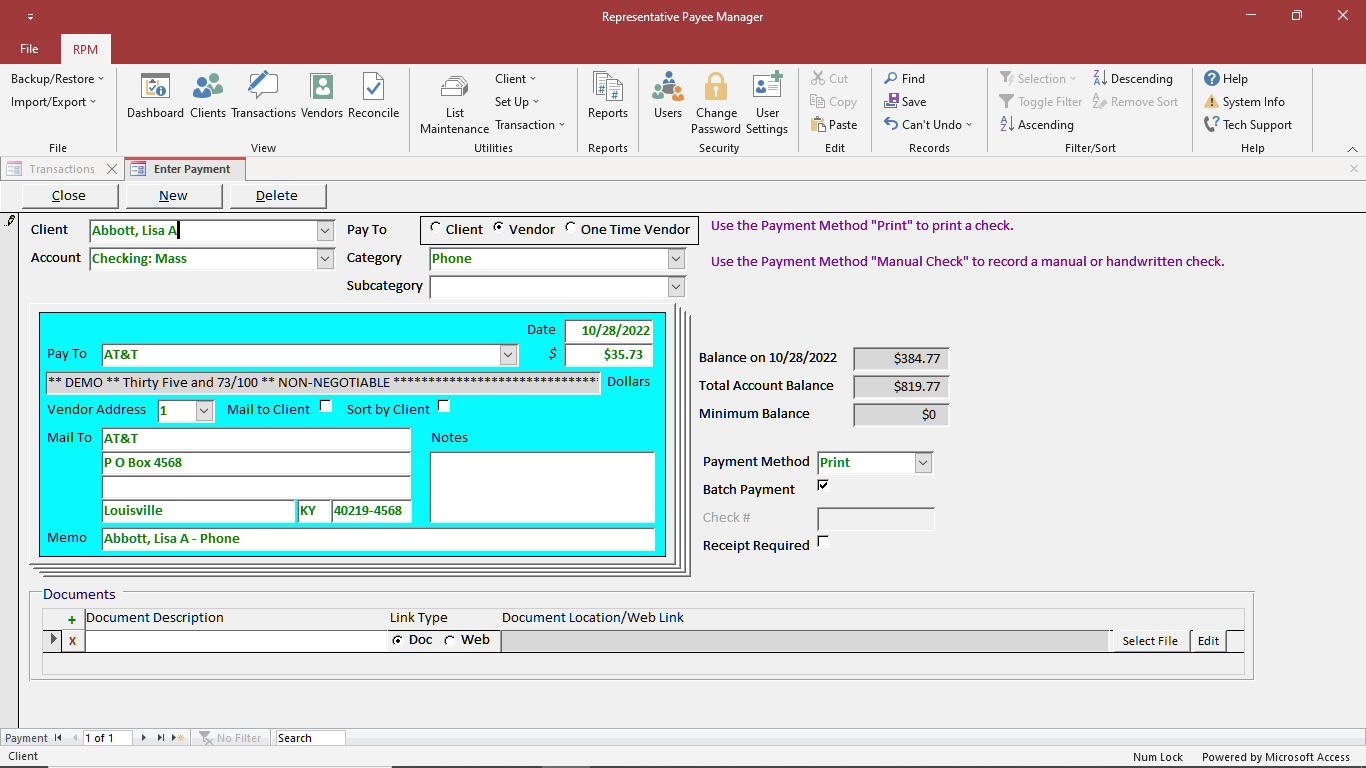 Enter Payment
The Enter Payment screen is used to create individual transactions that are not scheduled. The screen is similar to the layout of a check for easy data entry. When entering payments on this screen, the client's current account balance will be displayed.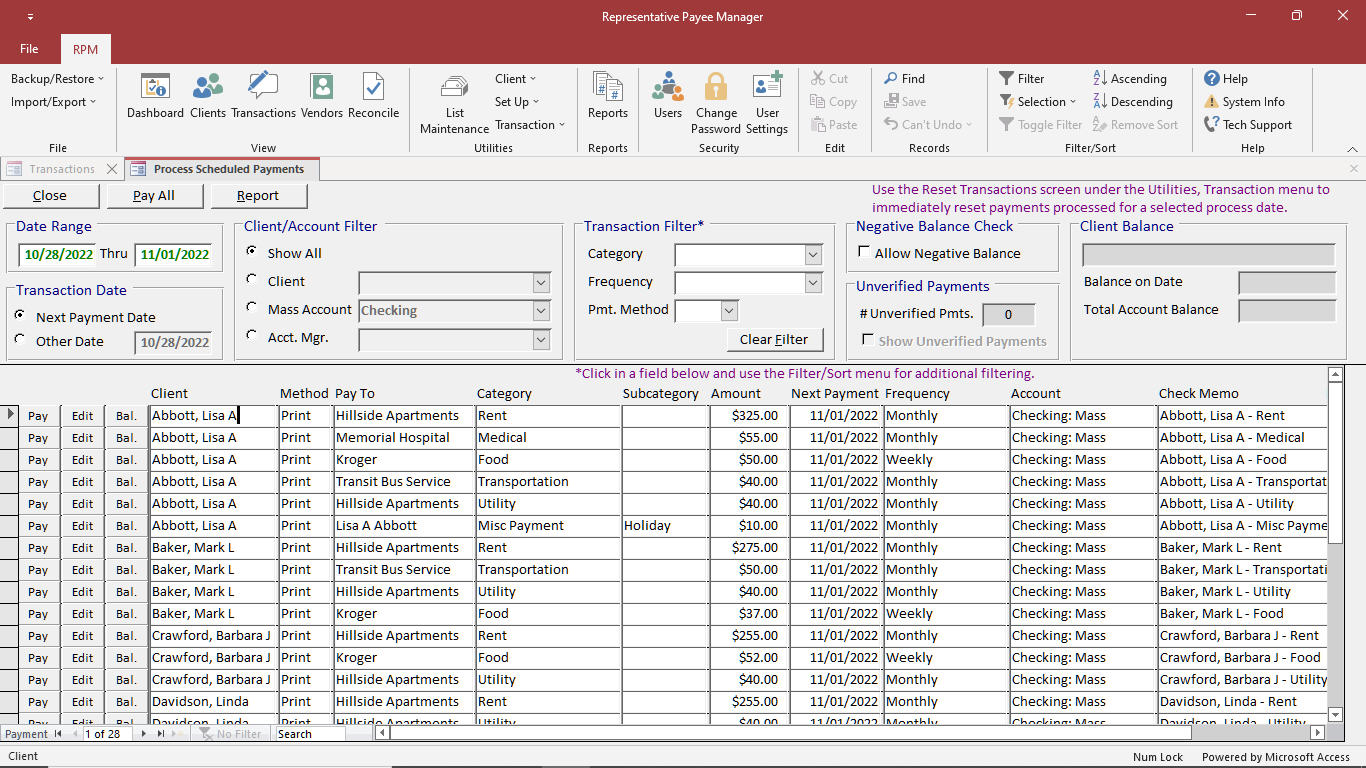 Process Scheduled Payments
The Process Scheduled Payments screen is used to process scheduled payments and add them to the transaction register. You can process scheduled payments for the current date or for any other date range (for example, for a week in advance). You can also process scheduled payments for a selected client or account. The next payment date will be automatically incremented based on the frequency for the transaction once a payment has been processed. Similar screens are available for processing scheduled deposits and transfers.
Vendors
The Vendors screen is used for viewing or entering details for any vendors your clients need to pay. Multiple addresses can be entered for each vendor. Routing and account number information can be used for electronic payments to vendors.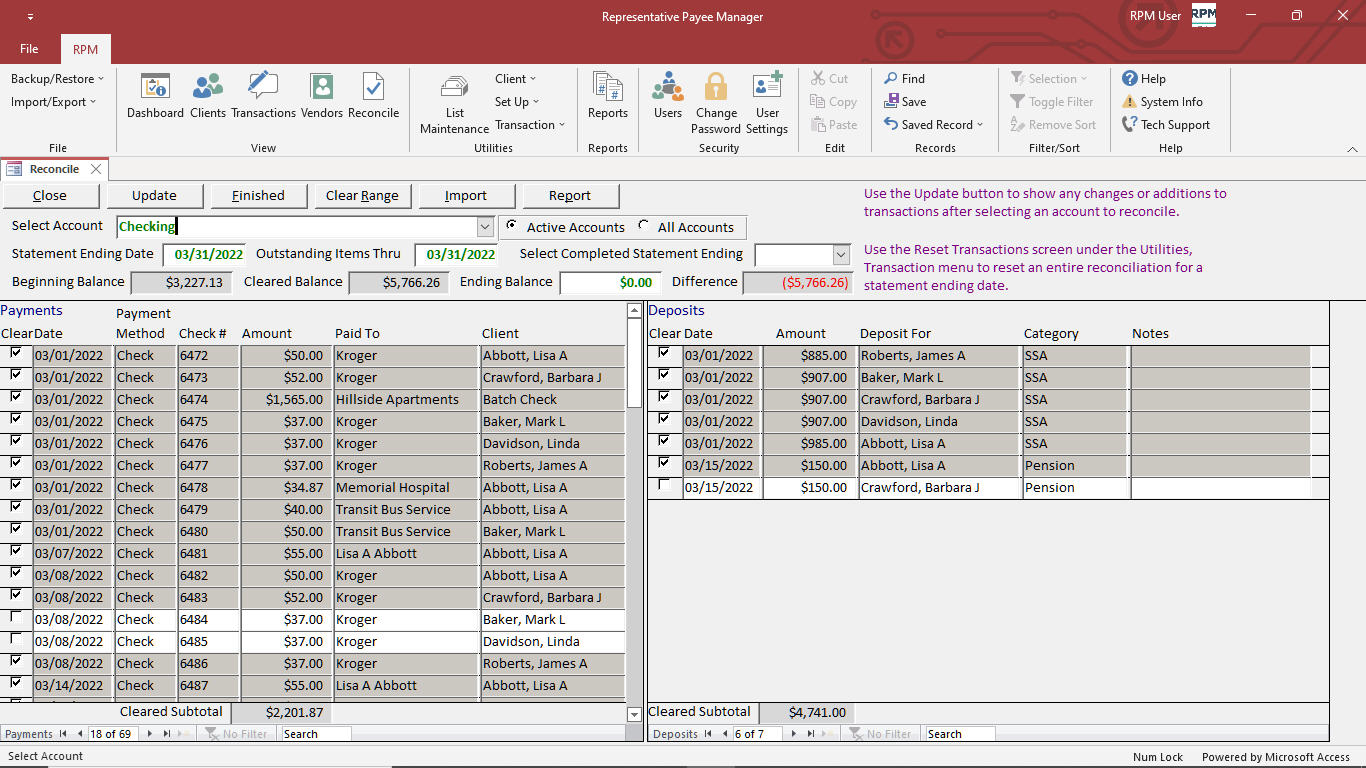 Reconcile
The Reconcile screen allows you to reconcile each bank account. You can clear payments and deposits individually or clear a range of payments or deposits.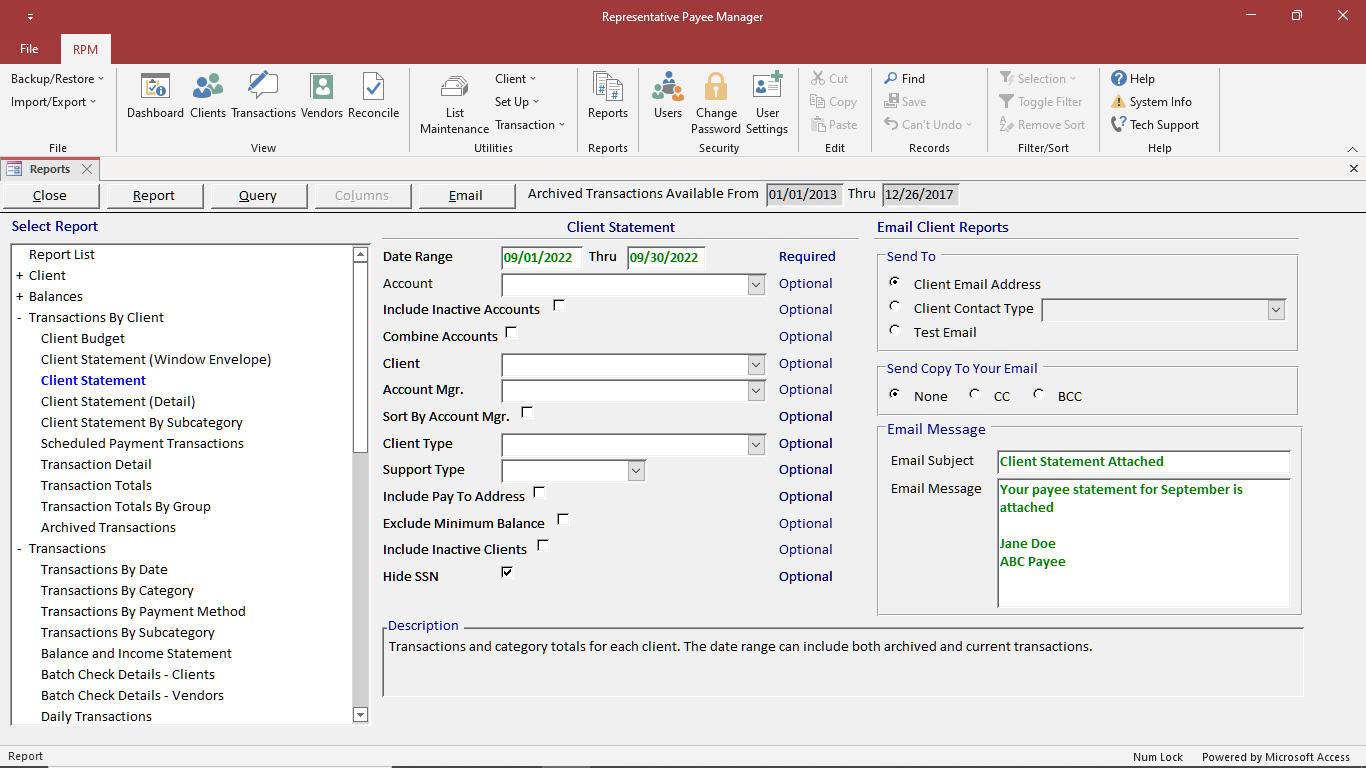 Reports
The Reports screen is used for running any of the 125+ reports in RPM. Most reports have multiple criteria options available. For example, you can run reports for all clients, a selected client, or a group of clients. Samples of reports are available under Reports